Under 19s
Fixtures and Results.
Check out information on our Under 19s team and find out recent results and upcoming fixtures.
Ulster Branch U19 League
Captain: John Magill
2011-12Season Fixtures.
Kick Off Times are 2.30pm, unless stated otherwise.
Ulster Branch League Table.
Click here to view standings via Ulster Branch website.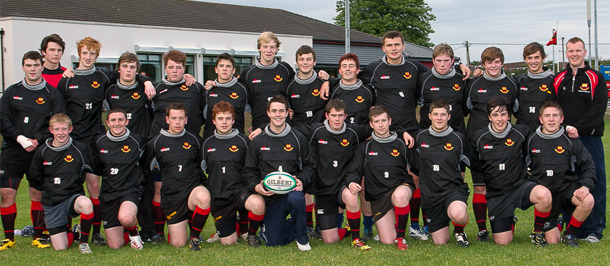 Photo courtesy of Ronnie Moore. Click to visit his portfolio and purchase a copy.

| Date | Home | Score | Away | K.O. |
| --- | --- | --- | --- | --- |
| 22/09/2012 | Carrickfergus |      P-P | Ballymena | 14:30 |
| 29/09/2012 | City of Derry |      P-P | Carrickfergus | 14.30 |
| 06/10/2012 | Carrickfergus |      P-P | Instonians | 14.30 |
| 13/10/2012 | Ballymoney |      P-P | Carrickfergus | 14.30 |
| 20/10/2012 | Carrickfergus |      W- | Rainey | 14:30 |
| 27/10/2012 | City of Derry |    34-19 | Carrickfergus | 14.30 |
| 03/11/2012 | Clogher Valley |    32-5 | Carrickfergus | 14:30 |
| 10/11/2012 | Banbridge |      W- | Carrickfergus | 14.30 |
| 17/11/2012 | Carrickfergus |    17-5 | Ballymoney | 14.30 |
| 24/11/2012 | Carrickfergus |    31-32 | Ballymena | 14:30 |
| 01/12/2012 | Carrickfergus |    0-36 | Larne | 14.30 |
| 08/12/2012 | Malone |     P-P | Carrickfergus | 14.30 |
| 15/12/2012 | Carrickfergus |     P-P | Omagh | 14.30 |
| 12/01/2013 | Ballynahinch |     P-P | Carrickfergus | 14:30 |
| 19/01/2013 | Randalstown |     P-P | Carrickfergus | 14:30 |
| | | | | |
| | | | | |
| | | | | |
| | | | | |