1st XV stumble at Grosvenor
Posted On: Monday, October 6, 2014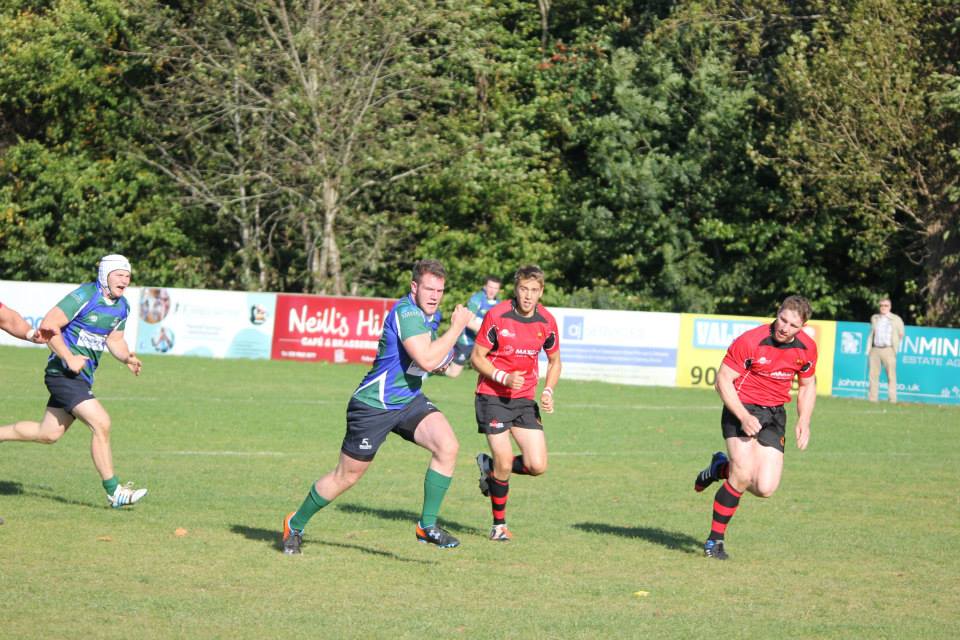 In their second League game of the season, the Maxol sponsored Carrickfergus 1st XV were beaten by 14 points to nil by Grosvenor at Belmont on Saturday 4th October. It is still difficult to believe that Carrick somehow conspired to lose this game but lose it they did! With a dominant scrum for much of the game, a solid line-out (indeed they stole two Grosvenor throw-ins), plenty of possession and virtually complete territorial dominance in the second half, they failed to register a score and conceded two unfortunate tries to the opposition. Carrick's downfall was simply their inability to keep control of the ball with knock-ons and loose passes, rather than penalties, the problem on this occasion. It was close to the final whistle before thay managed to put more than two or three phases together. With a stiff cross-wind helping in the second half, they did not make best use of it to keep the home side under pressure.
There were some good individual performance for Carrick, especially by Peter Simpson who scarcely put a foot wrong all afternoon on the left wing. Ross Crymble was getting through a lot of work until he had to go off injured after half an hour. Johnny Sheriff made a couple of nice breaks and Matt Hadden and Curtis Rea made a lot of ground as ball carriers. The problem was simply that no matter what breaks were made and how many yards were made by the ball-carrying forwards, the team didn't combine to take advantage.
Conditions were much the same as in Carrick's previous two matches, with a strong cross-wind helping Grosvenor in the first half. The Belfast side failed to make good use of these conditions and Carrick seemed to be containing them easily until the home side scored a somewhat fortuitous try after thirty minutes. A wild fly-hack ricocheted off a Carrick player on half-way and the Grosvenor right winger gathered and raced clear to go under the posts.Despite the elements, Carrick managed to play most of the rest of the half in their opponents territory and had a couple of line breaks which in the end came to nothing.
Carrick did not make as good use of the breeze in their favour in the second half as they had against Coleraine and Ards in previous weeks but still managed to play virtually the whole of the half in Grosvenor territory. Basically, it was their handling and inability to put phases together which cost them. There were at least three clean line-breaks which could have led to tries but somehow Carrick managed to turn the ball over on each occasion. Perhaps their day was summed up when a catch and drive from a line-out took them right to the Grosvenor line and, instead of using their pack to get over, they moved the ball into mid-field, tried a wrap-around move and knocked on! Earlier in the second half ,they were unfortunate when the forwards did appear to have driven over the line and grounded the ball but a try was not awarded. As in the first half, Grosvenor's try came from a poor kick close to their own line which they managed to gather and out-pace a Carrick defence still aligned for attack. The visitors continued to have chances right up to the final whistle but simply could not take them.
Carrick have their first home game, against University of Ulster, Coleraine (UUC), on Saturday 11th October and a major improvement will be required. This Carrick side is much better than they showed at Belmont on Saturday and their first game of the season at Tom Simms Memorial Park is the place to show it.
The Carrick team against Grosvenor was:-
A. McKinney; N. Hastings, J. Cullen(Capt), J. Wady, P. Simpson; J. Sheriff, G. Picken; A. Gibney, N. Hanna, R. Williams(M. Smiley), A. Kinkaid, C. Rodgers, M. Hadden, R. Crymble(R. McGonigle), C. Rea.
Other Results
The 2nd XV had an impressive 50-15 win against Banbridge 3s.
The 3rd XV had a similarly emphatic victory over Donaghadee 2s, winning 41pts to 3.
Carrickfergus RFC Youth teams who are once again sponsored by NK Ltd prepared for next weeks start to their league campaign against Rainey RFC with friendly fixtures away to Civil Service Youth.
At U14s level Carrick rotated a squad of 25 players in recording a comprehensive 61-12 victory. Special mention to new recruits Robert and Matthew Hamilton who both had excellent debuts for the side.
Carrick U16, who also travelled with a large squad of players, continued their encouraging start to the season with a 71-0 victory. After the match team coach Richard Higgins commented that the most pleasing aspect of the win was the strong defensive display by his side.
Carrick U18s rounded of a clean sweep of results with a clinical 80-0 victory . Despite losing 2nd row forward dangerous Dan Mcburney with a dislocated finger Carrick produced a fine display of running rugby with both a number of forwards and backs contributing to the tally.
Next week's fixtures (Fixtures for Saturday 11th October at 2.30, unless otherwise stated)
1st XV v UUC (h)
2nd XV v No match
3rd XV v Randalstown 2s (a)
4th XV v UUC 3s (h)
Ladies v Newry (h), (Sunday 12 noon)
Youth Teams v Rainey, (h), (11am)
Mini Rugby – Training (h), (9.30am)
Invitation to pre-match reception
There will be a pre-match lunch in the clubhouse from 12.45pm on Saturday before the 1st XV v UUC fixture. This is open to everyone at a cost of £12.50 per person (including wine) or only £10 per person (without wine). If you want to attend please let Craig Addley know by as soon as possible (07710 550711). Thanks to pre-match sponsor, Robinson's Shoes, 9A West Street, Carrickfergus. http://www.robinsonsshoes.com