2015 Carrick Sevens Draw
Posted On: Friday, April 17, 2015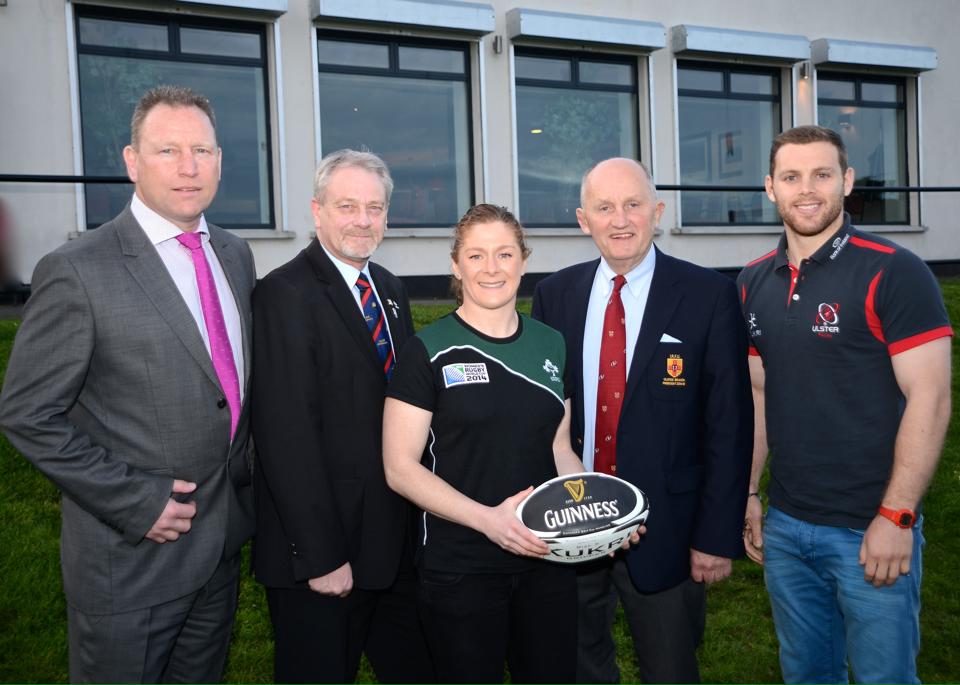 The draw for the 2015 Carrick Sevens tournament took place at CRFC on Thursday 16th May 2015. We were delighted to be joined by Grace Davitt, Maurice Fields and Darren Cave for the occasion and to assist with the draw. Full details of the draw are below:
Kukri U18 Boys – Friday 1st May 2015
Group A
Carrickfergus
Randalstown
Civil Service
Larne
Group B
Queens
Edinburgh College
CIYMS
Belfast Met
---
Girls U18 – Friday 1st May 2015
Group A
Carrickfergus
Belfast Harlequins
Ballynahinch
Bangor
---
Quigg Golden Open – Saturday 2nd May 2015
Group A
Queens
Ballynahinch
Mighty Morphin flower Arrangers
Ballyclare Autism Warriors
Group B
Edinburgh College
The Mighty Shire
Atheltico Ards
The Green Machine
Group C
NGN 7's
Belfast Harlequins
Blue Flag Heros
Weightwatchers
Group D
City of Derry
Kirkcaldy
The Warriors
Malone
---
Manvik – Qualifying league – Sunday 3rd May
Group A
Bangor
CIYMS
BHSFP
Larne
Group B
Carrickfergus
Omagh
PSNI
Holywood
---
Abbey Insurance – Ladies – Sunday 3rdMay 2015
Group A
Cooke
Novos
City of Derry
Group B
Queens
Malone
Ormskirk
---
Guinness Ladies Development – Sunday 3rd May 2015
Group A
Ballynahinch
Coleraine Cobras
Cavan
Newry
Group B
Carrickfergus
Queens 2's
Belfast Harlequins
Malone 2's
---
Weekend entertainment
Over the weekend we have some fantastic entertainment. On the Friday night we have the Discobeards in the clubhouse. On Saturday we have one of the biggest bands around 'Flash Harry' doing his Queen tribute act in the marquee, followed by 'Sunshine' on the Sunday night. Tickets are priced at £10. Remember that you can purchase tickets online at www.carricksevens.co.uk
Participating teams, please note:
All teams must be registered and ready to play 30 minutes prior to the commencement of their tournament, so on Friday this will be 5.30pm and on Saturday and Sunday 11:30am. A representative of each team will be requested to attend a briefing 20 minutes prior to the start of the tournament, so on Friday this will be at 5.40pm and Saturday and Sunday this will be 11.40am. The match and pitch schedule will be supplied to you at this stage and throughout all the competitions all teams will be expected to be ready to play and pitchside 5 minutes before each game.
Teams participating in the, Manvik Qualifying League and Abbey Insurance Ladies must only use players who are currently registered with their club at the time of the competition.
Teams will be supplied with water and food vouchers on the day of their tournament.
To keep yourself and your team mates fully up to date don't forget to follow us on Twitter @carricksevens and on Facebook.
Any questions or queries get in contact and lets all keep our fingers crossed for the weather.