Carrick suffer fifth defeat in a row
Posted On: Monday, January 29, 2018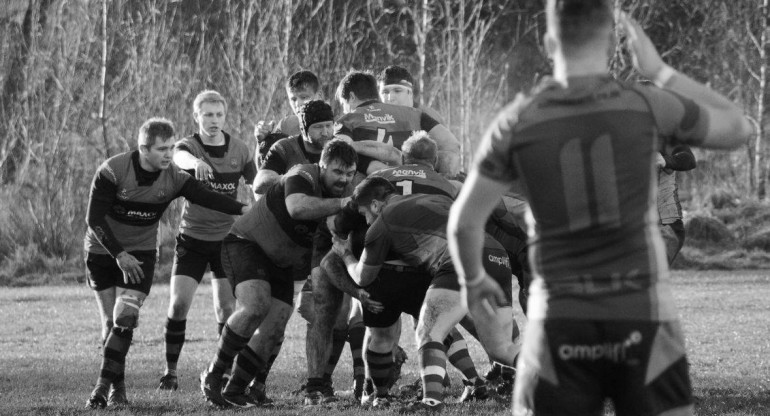 The Maxol-sponsored Carrick 1st XV's losing run was extended to five matches when they were beaten by 38 points to 34 by CIYMS at Belmont on Saturday 27th January. However, thanks to a remarkable late fight back in which they scored three tries in a ten minute period, Carrick did come away with a try bonus point and a losing bonus point. This keeps them in fifth place in the League, with Cooke losing to Portadown on Saturday although the former's losing bonus point keeps them one point behind Carrick and the latter have now moved level with Cooke.
In a game heavily influenced by a very strong cross-wind, Carrick twice looked dead and buried; at 26 points to 10 down at half-time and again behind by 38 points to 17 with just twelve minutes of normal time remaining. To their credit, Carrick kept battling and, in the end, had their last two tries been converted, they would have gained a deserved draw. Indeed, had the referee agreed with the Carrick touch judge on the conversion attempt after Carrick's first try, they could well have been lining up their last conversion attempt to win the game! That said, CI looked the sharper ball in hand until the last fifteen minutes or so and just about deserved their victory. For Carrick, the usual stalwarts provided the core of their attacking and defensive efforts, with Andy McKeen and Ryan McGonigle carrying and tackling strongly. However, the stand-out performer was Bradley Luney who never gave up, played himself into the ground and scored Carrick's first and last tries.. Simon White had a good debut on the wing, scoring a try and showing up some of his larger colleagues in the way he brought down the big CI ball carriers on a number of occasions. His back three colleagues – Fionn McCormack had David Moore – also made significant contributions as did David McKeen whose front row union membership must now be in question after he scored a try for the third week in a row!
For the third time in a row, Carrick got off to a great start when Bradley Luney took the final pass in a move initiated by Andy McKeen, and carried on by Ryan McGonigle, to go over after just two minutes. The try was not converted -though the Carrick touch judge thought the ball had gone over- and Carrick were then rocked by three CI tries in a fifteen minute spell in which the hosts totally dominated the game. The first came when their right winger ran back a Carrick kick, was allowed to make far too much ground and fed his supporting centre who scored. Five minutes later their left winger got in on the act, making a break and feeding back inside to a supporting player who got the touch-down. Their third try at the end of the first quarter came from an intercept on their own 10 metre line and a back row forward out-paced the Carrick defence – despite a valiant chase by prop David McKeen – to score under the posts. All three tries were converted to leave Carrick trailing by 21 points to 5. Carrick did hit back after twenty-five minutes when CI lost control of the ball just outside their 22 and Simon White fly-hacked through and won the chase to the line to score. The try was not converted. Both side were finding the strong wind difficult to deal with but the home side, playing mostly ball in hand, were coping the better and extended their lead after thirty-five minutes when they went over after going through a series of phases close to the Carrick line. This try was not converted and the visitors had a couple of chances in the run in to half time, with CI down to fourteen men when a prop was sin-binned.They missed with a penalty effort and then a wayward pass possibly cost them a try following a move initiated by Bradley Luney and taken on by Andy McKeen. Thus, half-time was reached with the home side leading by 26 points to 10.
Carrick dominated territory in the early stages of the second half, keeping CI pinned back around their their 22 and, with their scrum beginning to get on top, a fight back look a possibility. However, it was not until the fifty -fourth minute that they got a reward for their efforts when Chis Rodgers went over following a series of picks and drives close in. The try was converted by Adam White to make the score 26 points to 17 in CI's favour. However, with Carrick down a man because of a yellow card, the home side extended their lead ten minutes later when they gathered and raced over following a Carrick turn-over. The try was converted and they went further ahead in the sixty-eighth minute after a move in which both backs and forwards handled although the referee did appear to get in the way of a Carrick defender a the CI scorer went over. The try was not converted but the home side now had a seemingly unassailable lead of 38 points to 17 with just twelve minutes of normal time remaining. Carrick though had other ideas and came back strongly. In the thirty-fifth minute David McKeen went over following a strong charge by Ryan McGonigle. Adam White added the conversion points to bring Carrick within fourteen points. Then in the fortieth minute Fionn McCormack side-stepped a defender to go over following a ground making run by Bradley Luney. This try was not converted and CI now led by 38 points to 29 going into injury time but Carrick weren't yet finished and in the fourth minute of injury time Bradley Luney capped a fine performance when he went over following a strong run by Stuart Currie. Fionn McCormack correctly tried a drop goal conversion but narrowly missed and, in any case, Carrick had run out of time as the referee blew for full-time with CI having held on for a 38 points to 34 victory.
This was a strange game in which for significant periods CI looked the more accomplished side but Carrick kept coming back and if they could play over eighty minutes with the determination, and skill, they showed in the last ten minutes against CI they would not be fighting to hold onto their mid-table position. In the end, with both sides scoring six tries, the difference came down to luck, or lack of it, with conversion attempts in the very windy conditions. Next week Carrick travel to Strabane in the second round of the Towns' Cup and then return to League action on 10th February when they play host to Cooke at Tom Simms Memorial Park.
The Carrick team which faced CI was:-
F. McCormack, S.White, P. Simpson, A. White, D. Moore; D. Carse, C. Cambridge; D. McKeen, A. Whitley, P. Greenaway, S. Currie, C. Rodgers, R. McGonigle, B. Luney, A. McKeen (Capt). Subs: G. McKeown and N. Greenwood.