5 Carrick Men Make Junior Ulster Squad
Posted On: Wednesday, April 25, 2018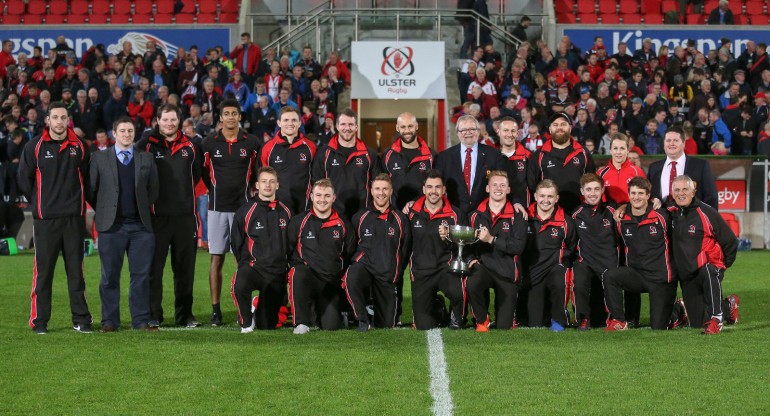 The Ulster Juniors will begin the defence of their Junior Inter-Provincial Series title away to Munster on Saturday afternoon.
The Ulster men swept all aside last year on route to winning the series, and Head Coach Richard Boyd is looking forward to another testing campaign:
"I am delighted to be leading the Juniors squad again this year and am looking forward to the inter-pro series. We have set a very hard act to follow last year as a group but we are well prepared again this year and we will be working hard to have another successful campaign.
"The new coaching team of myself, John Nicholl and Chris Nash, alongside the addition of a number of young faces who have stood out this year for their clubs has brought a real freshness to the squad. The squad have really bought into training and there is a healthy competition for places and an eagerness to keep improving as a group which has been really positive.
"We are looking forward to the trip to Munster and will travel with confidence after our experiences on the road last year at both Connacht and Leinster. Munster will be a really tough team to beat at home and they will be favourites, but we must aim to start our campaign off in the right manner and if we play to our potential will can come away with some crucial points. With two home games this year it would be great to see a big crowd out to cheer on the boys and help to boost our chances."
Andy McKean will captain the Ulster Juniors from the back row, and will one of the key figures in the pack along with Paul Greenaway, Stephen Dickey and Davy Clarke. Vice captain Callum Irvine will be expected to feature prominently in the Ulster midfield, as weill Martin Irwin and fullback Phillip Cartmill.
2018 Junior Inter-Provincial Series Fixtures:
Ulster v Munster
Saturday 28th April 2018, Muskerry RFC, 2.30pm
Ulster v Connacht
Saturday 5th May, Ards RFC, 2.30pm
Ulster v Leinster
Saturday 12th May, UUC RFC, 2.30pm
Ulster Juniors Squad:
Captain: Andy McKean (Carrick RFC)
Vice Captain: Callum Irvine (CIYMS RFC)
Paddy Aiken (CIYMS RFC)
Ross Bingham (Dromore RFC)
Bokkie Carstens (Coleraine RFC)
Phil Cartmill (Cooke RFC)
David Clarke (Ballyclare RFC)
Martin Connolly (Randalstown RFC)
Steven Dickey (Coleraine RFC)
Ryan Garrett (Larne RFC)
Jason Gilliland (CIYMS RFC)
Paul Greenaway (Carrick RFC)
Thomas Hunter (Ballymoney RFC)
Peter Irvine (Ballymoney RFC)
Martin Irwin (Ballymoney RFC)
Dean Jones (Ballyclare RFC)
Aaron Kilpatrick (CIYMS)
Bradley Luney (Carrick RFC)
Sam Mackey (Limavady RFC)
Stewart Martin (Academy RFC)
Brian McClearn (Dromore RFC)
David McKean (Carrick RFC)
Oliver Millar (UUC RFC)
Michael Orr (Portadown RFC)
Dennis Posternak (UUC RFC)
Stuart Smyth (Grosvenor RFC)
Lee Steenson (Dromore RFC)
Cory Tipping (CIYMS)
Alan Whitely (Carrick RFC)
Mark Wylie (Academy RFC)
Content and imagery via Ulster Rugby Online